ADLER & HEARNE | The much longer story
Note: These are highlights of 'the story of us' musically speaking. In our own words. For those of you who like to dig deeper...
Where to begin? We could write volumes, starting with being children whose fathers were church musicians of the highest order, and whose mothers patiently encouraged us to "practice, practice, practice" our instruments and SING. Lynn, of course, must point out that she was a mere toddler in the Ada, Oklahoma town of her birth when Lindy became a member of the famed Texas Boys Choir his fourth grade (thru eighth grade) years in his hometown of Fort Worth. (But then Lindy gloats how he fondly remembers the 'summer of love,' where poor Lynnie remained virtually clueless well into the 1970s.)
College days could be a fun topic, what with all the music making Lindy was into at John Brown University in Siloam Springs, AR. And Lynn too, during her college years at Carson-Newman in Jefferson City, TN. Add up all the performances, LP recordings and road trips between the two of us and our various ensembles, and it's clear those college years played a big role in preparing us for the gypsy, touring, recording life we lead today.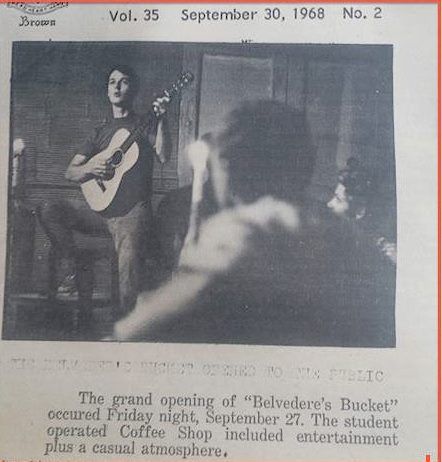 Here's Lindy on stage at the coffeehouse he started near the campus of JBU in 1968!
Hmm. We could get nostalgic about our solo careers as performing songwriters. Lindy as himself, and with The Lindy Hearne Band performing USO Tours around the globe (1975-1979). And as leader of his band A Touch of Country which for two and a half years (1976-1978) was the backing band for legendary Roy Clark, playing stages from "Hee Haw" to Carnegie Hall, and from Las Vegas, Reno and Tahoe to the Johnny Carson Show and more.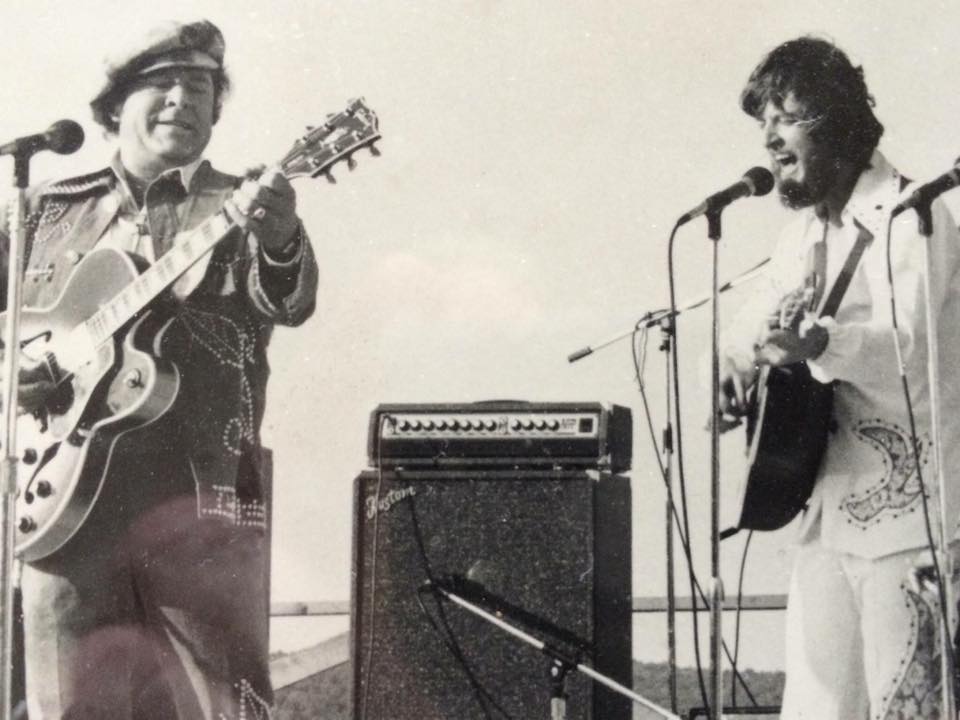 Lindy on stage with Roy Clark.
As solo pioneers of the so-called "contemporary Christian music (CCM)" scene of the late '70s and early '80s (honestly, we just prefer referring to this aspect of our lives/music as spiritual songs), we met in Nashville as friends in 1979. Given our families' roots in the Baptist church, it was only natural we gravitated toward the CCM direction initially with our music, though we now describe ourselves simply as "folk singers" (who happen to be Episcopalian). And who actively seek out opportunities to sing on any given Sunday morning in churches of all descriptions.
Lindy's solo releases back in the day were a "Lindy Hearne" self-titled release in 1975, followed by 1980's "Diamonds In The Rough" on the Ariel label, and 1982's "Vessel of Love" on the Voicebox label. Lynn's solo releases (last name "Sutter" then) included the 1979 release "Everlasting Kind of Love" on the Dayspring label of Word Records, and the 1984 release "Movin' On" on the Crescendo Records label. One of her claims to fame is a song she penned ("Sweet Adoration") that ended up as a serendipitous collaboration with Nashville songwriters Brown Bannister and Dawn Rodgers, and wound up as the first song on the first side (old school speak) of songstress Debby Boone's 1980 first-ever gospel release "With My Song" on the Lamb & Lion label. One of Lindy's claims to fame is his song "Holy Spirit," which found its way onto the famed Rev. Al Green's 1985 funk-soul-gospel release "Trust In God" on the Memphis-based Hi Records label. What a trip!
Whoa! Here's a vintage photo of Lindy and Lynn (circa 1983) when Lindy was helping Lynn make her solo recording "Movin' On" at Ardent Recording Studios in Memphis. 
From the mid-80s through 2000 we remained on our solo musical paths. During those years Lindy was deeply involved as performer and record producer for the National Episcopal Church's EYE (Episcopal Youth Event) conferences, and was leader of the Sunday morning Folk Service at his church Trinity Episcopal in Fort Worth. He also founded the Trinity Coffeehouse live music venue there. His claim to fame from this period -- and to this day -- is simply that his 'songs of the spirit' are still sung in Episcopal church services and campgrounds coast to coast.
During that same time period, Lynn mostly took time off from music making and enjoyed a successful career in Dallas making a living with words. First in newspaper journalism, then corporate communications, and finally advertising and marketing writing before going freelance. One of her favorite music-related projects during those years was co-writing the theme song, with music producer Tim Cissell, for the hit PBS Children's TV series "Wishbone."
Adler and Hearne's solo paths merged in 2001. Lynn came out with her solo CD "Bird On The Wing," in the spring of 2002 -- the first release on the Spring Hollow Records label, and produced by Adler, Hearne and Paul "Pappy" Middleton. Followed by Lindy's solo CD "Lifetime Supply" on the same label in 2003, with producer Sam Taylor (who as it turns out is the one who introduced Lynn and Lindy years earlier in Nashville).
Then came our debut duo CD "Opposites Attract" -- a live house concert recorded and produced by Sam Taylor at The Monastery house concert series in 2005.
Here's a selfie we took with an actual camera, down on the south end of our eight-acre pond not long after we named our home Spring Hollow Organic Song Farm.
Not long after the release of our 2005 CD "Opposites Attract," we founded the live music venue Crossroads Coffeehouse & Music Company in our adopted hometown of Winnsboro, hosting weekly shows on our 'front porch stage.' From November of 2005 through May of 2009 it was a wonderful and exhausting three-and-a-half years of bringing some of the finest musicians in the world to our small rural East Texas town.
Musical guests included Albert & Gage, Jonathan Byrd, Kate Campbell, Ronny Cox, Druha Trava, Ruthie Foster, Denice Franke, Kinky Friedman, Steve Fromholz, Susan Gibson, Vance Gilbert, Eliza Gilkyson, Terri Hendrix & Lloyd Maines, Sara Hickman, Tish Hinojosa, Ray Wylie Hubbard, Johnsmith, Emily Kaitz, Tom Kimmel, Jimmy LaFave, Bob Livingston, Kacey Musgraves, Pierce Pettis, Tom Prasada-Rao & Cary Cooper, Pauline Reese, Shake Russell, Billy Joe Shaver, Ralph Stanley & The Clinch Mountain Boys, Michael Smith, Amy Speace, Louise Taylor, Hans Theessink, Trout Fishing In America, Josh White Jr., Jack Williams, Robin & Linda Williams and many more.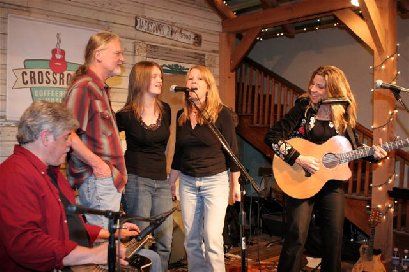 This is us on the Crossroads stage with daughter Kate Hearne, Terri Hendrix and Lloyd Maines. Probably around circa 2008.
To this day we are humbled that some in our loving town credit us and our little venue with its big talent for helping to grow the town. That makes our hearts smile. We are big believers in the magic of music and the power of the arts as a whole to bring vitality to people's lives, and in turn, to entire communities. We love continuing to be a part of that in our own touring statewide and nationwide. 
Since we've been touring full time, we released four more fine CDs on our Spring Hollow Records label -- To The Heart (2009) produced by Rick Clark and recorded at House of David in Nashville with a star cast of players | Adler & Hearne Live at Eddie's Attic (2011) with very special guest -- the late Michael Johnson | Second Nature (2014) produced by Lloyd Maines and recorded at The Zone in Dripping Springs, TX also with very special guests including Lindy's daughter Kate Hearne on lead guitar throughout | and our double-CD release Simpatico (2016) self produced by yours trulies -- one disc Folk and the other disc songs of a Spiritual nature. Our earlier recordings have enjoyed success in terms of ranking Top 10 and Top 20 airplay by the FOLK DJ community worldwide, as well as being embraced by our listening audiences at live shows. 
Our most recent Adler & Hearne recording The Ties That Bind Us on Howlin' Dog Records releases in August of 2022 and celebrates 20 years of life, love and organic song farming together. It was produced by multi-instrumentalist singer-songwriter Don Richmond, and features special guests Eliza Gilkyson, Bill Hearne, Michael Hearne and Jimmy Stadler.
Note: you can dip into all of our music, by the way, at our BandCamp page. Just click HERE to listen!!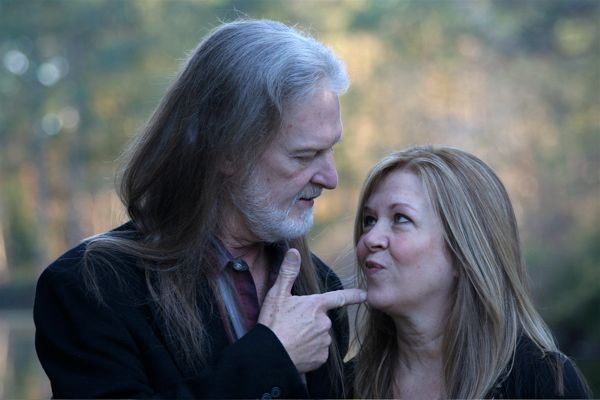 Kidding around at the song farm. Photo by Kate Hearne.
Though we don't put ourselves out there too much to get awards, we've won a few as performing songwriters (solo and duo) through the years at such events as the Wildflower Festival, the Walnut Valley Festival, the Eureka Springs Ozark Folk Festival, the B.W. Stevenson Memorial, and the Kerrville Folk Festival. Plus we've enjoyed some notoriety being chosen as Official Showcase Artists at the noted regional Folk Alliance conferences FARM 2010 (Folk Alliance Region Midwest) and SERFA 2011 (South East Regional Folk Alliance) -- both valuable experiences that still spark new performing opportunities for us as we tour coast to coast.
We're honored to have been accepted onto the Texas Touring Roster of the Texas Commission on the Arts beginning in 2014. And we're pleased to have been repeatedly invited to remain serving in that capacity now through the 2022-2024 touring season.
We work hard like most folks -- we just commute farther than most. We're migrant song farmers from East Texas, doing what we love for our living. Whoever you are reading this bio -- thank you for hosting us in your venues, for coming to our shows and buying our music, for reviewing our CDs and live performances -- for whatever reason you read this far -- we appreciate your interest. 
Thank you also for visiting our Song Farm Guesthouse listing on Airbnb. Your stay here at our Song Farm home means much and is a great help to us indeed! https://airbnb.com/h/songfarmguesthouse
We promise to do all we can to make you GLAD you came out to an Adler & Hearne concert, that you hosted us in a concert in your home, or that you purchased our music to listen to in your life or to share with others.
Love & peace through song always,
Lynn & Lindy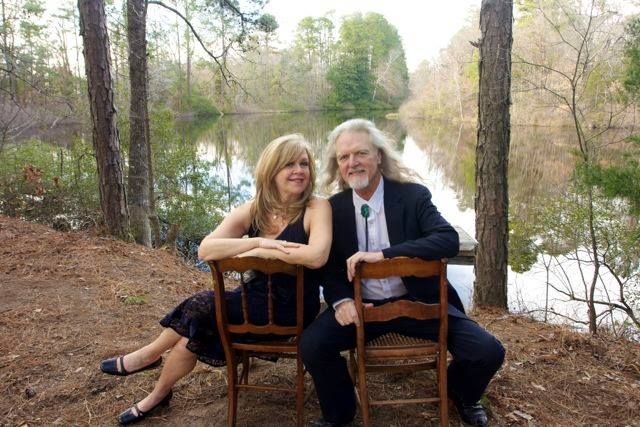 Just us in 2016 at our song farm home outside Winnsboro, TX.