Welcome to the online home of Adler & Hearne
(updated Friday, January 20,  2023)
NOTE: This month and next we are doing some housekeeping here at our online home, FYI. Thanks for your patience.
COMING UP IN THE NEW YEAR! 
THIS Sunday, January 22, 2023 - The Old Firehouse in Edom | Edom, TX 2:30 p.m. (doors open / schmoozing at 1:30 p.m.) Hats off to concert host, emcee and sound man extraordinaire Jeff Gottesman! We will be performing on what is now known as the Judy Gottesman Memorial Stage. Very special. Here's the address, etc. and we'd love to see you there.
8241 FM 279 | Edom, TX 75754
(903) 852-ART1 (2781)
www.theoldfirehouse.net
https://www.facebook.com/TheOldFirehouse/
Here's a recent article about the new season of music at The Old Firehouse! https://tylerpaper.com/news/old-firehouse-announces-return-of-acoustic-music-concerts/article_969ea931-d654-5463-affd-8cd82a70e6b0.html?utm_campaign=blox&utm_source=facebook&utm_medium=social&fbclid=IwAR0hv8z-4wBtn1LTp53nJirI6SHG-wtW6ei7zi8kpx5hfUywxAHAvorjUr8
FOR MORE SHOW DATES, CHECK OUR ONLINE CALENDAR BY CLICKING ON THE "SHOWS" TAB HERE ON OUR SITE!
WE'RE ON HOLIDAY BREAK.
ON SATURDAY, DECEMBER 3 WE PLAYED OUR HOMETOWN CD RELEASE CONCERT ON THE FAMED BOWERY STAGE AT WINNSBORO CENTER FOR THE ARTS here in Winnsboro, TX –- celebrating the release of our new CD The Ties That Bind Us on Howlin' Dog Records!!! 
Now we are on a winter break. Working hard behind the scenes on concert dates and tour bookings for 2023. LOTS going on here for us in a good way. We look forward to posting updates in the coming days as we make things happen, and as we ride the wave of life!
Y'all be safe, stay well and have a soulful, safe and healthy 2023!
Much love and good vibes from the song farm,
Lynn & Lindy
KICKSTARTER UPDATE: SUCCESS IN REACHING OUR $20,000 GOAL!!! Thanks to 149 dearly beloved Backers, our campaign wrapped up at 10:03 a.m. CST on Friday, July 15 and raised $21,854 of support toward our new Howlin' Dog Records CD release The Ties That Bind Us (official release date was: August 12, 2022). WhooHOOOOO!!! 
We are IN PROCESS re: fulfilling our Backer REWARDS for all of our dearly beloved Backers!
IF YOU'RE CURIOUS TO KNOW MORE ABOUT OUR RECENT KICKSTARTER, you can still go there and watch our short video (we think it's informative, and hopefully somewhat entertaining) and read the back story of how we've managed to make it to this point in life. HERE'S THE LINK . And if you'd like to join us on this journey of unleashing new music for the planet -- just below are the ways you can lend the hand of financial support. No matter the day or time there's always a need for support. Thank you, friends!
PayPal: lindyhearne@me.com
Venmo: Lindy-Hearne
USPS: Lindy Hearne | P.O. Box 979, Winnsboro, TX 75494
Here's our new CD cover portrait by Dallas artist Bryan Peterson! He based it on a self portrait photo we took at our song farm home back in 2002. So with this new release we are celebrating 20 years of life, love and organic song farming together!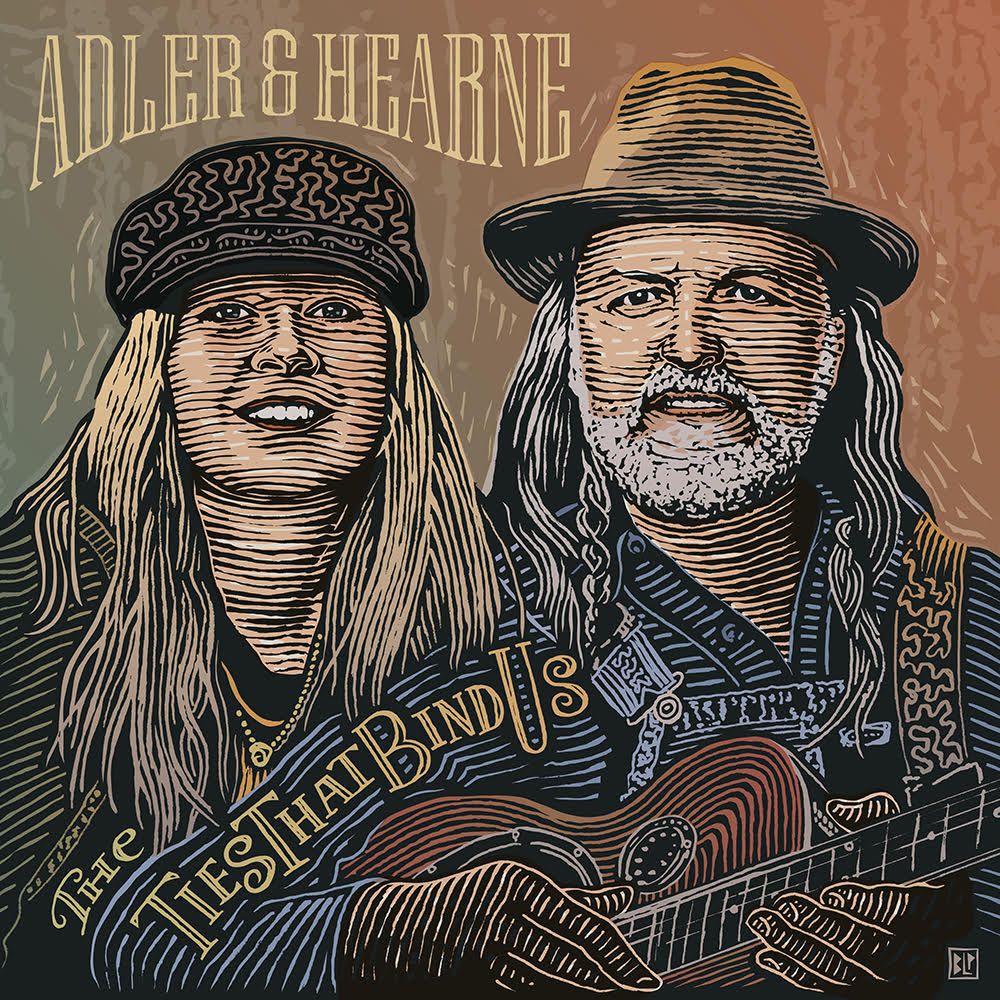 As you might imagine, we're chomping at the bit to get back out on the road and play more music for friends near and far. We're gearing back into LIVE concert booking mode as we are able. In the meantime, we plan to return to doing some of our Facebook LIVE FROM HOME shows from time to time too. At least there's that! 
LOOKING IN THE REAR-VIEW MIRROR...
Saturday & Sunday, October 15 & 16, 2022 - Harvest Moon Festival of the Arts | Granbury, TX. These performances were partially underwritten by the Texas Commission on the Arts. SALUTE!!! 
Wednesday, September 7, 2022 - Taos Art Gallery Stroll kickoff to Michael Hearne's 20th Annual Big Barn Dance Music Festival | Taos, NM. We'll be playing from 3 to 6 p.m. at The Ranch at Taos fine art gallery -- you'll find us set up out in the lovely Kit Carson Museum courtyard next to the gallery.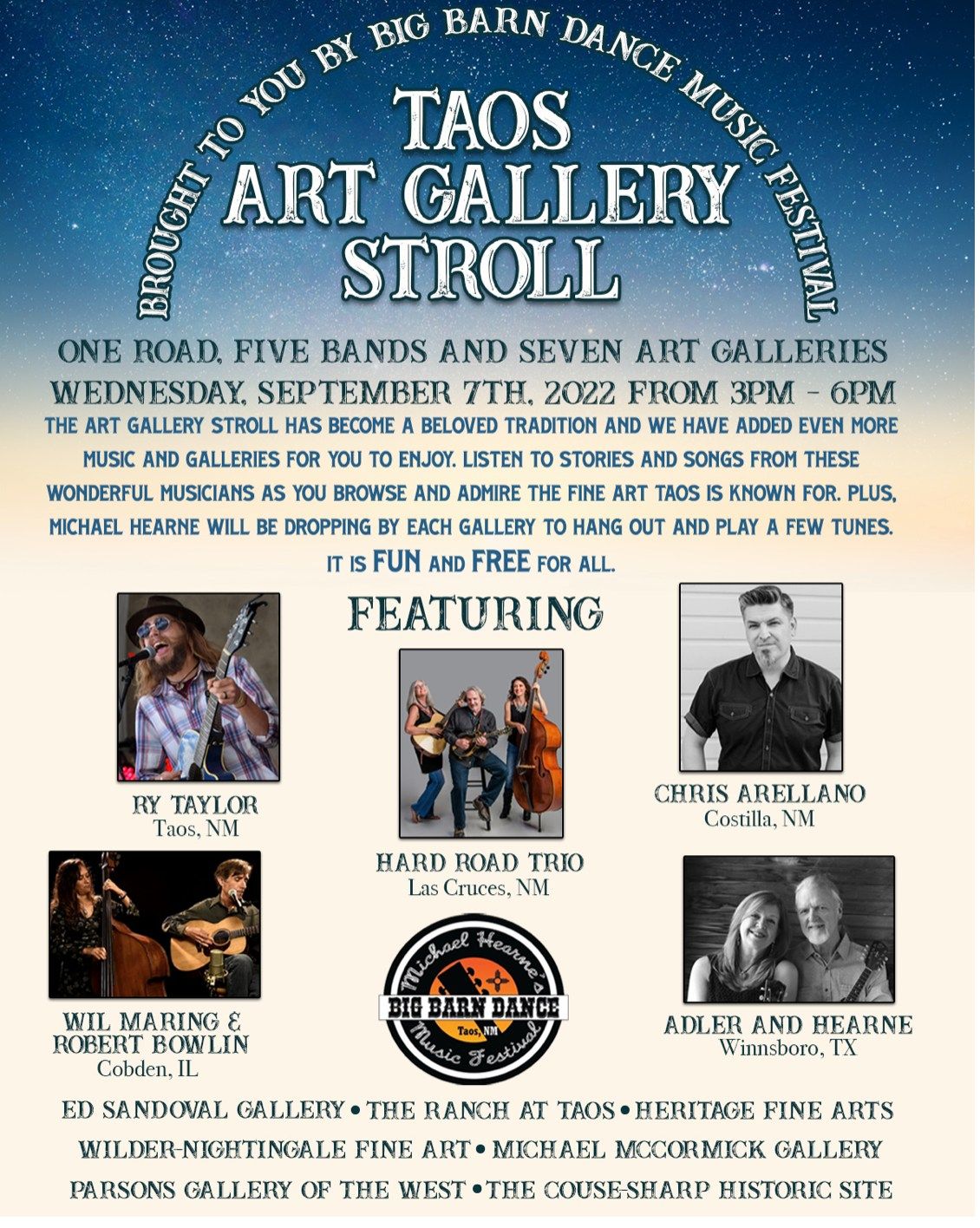 Saturday, September 3, 2022 - CD-release concert at Solid Grounds Coffeehouse | Albuquerque, NM - located at St. Stephens United Methodist Church. Doors at 6:30 / music at 7 p.m. We're also providing special music in all three services Sunday a.m., at 8 a.m., 9:30 a.m. and 11 a.m. See calendar for details.
Thursday, September 1, 2022 - CD-release concert at Woody Guthrie Folk Music Center | Pampa, TX.
Saturday, August 13, 2022 - CD-Release Concert at Millbend Coffeehouse |The Woodlands, TX
Friday, August 12, 2022 - CD-Release Concert at Poor David's Pub | Dallas, TX
Thursday, June 16, 2022 - Concert at The Forum | Wichita Falls, TX for the Arts Council of the City of Wichita Falls, plus a Friday morning, June 17 songwriting workshop. Hats off the Texas Commission on the Arts for its grant support of this community concert.
Saturday, March 5, 2022- TEXFest | Carrollton, TX 3 to 9 p.m. in Historic Downtown Carrollton | We'll be kicking off the day's entertainment from 3:30 to 4:30 p.m. | This event is free to the community! Hats off the Texas Commission on the Arts for its grant support of this community concert.
Saturday, November 6, 2021 - Winnsboro Center for the Arts | Winnsboro, TX (our annual concert on The Bowery Stage! Doors at 7 / Music at 7:30 p.m.) Joining us on bass was Tony Stubbs, and on keys for a special number was WCA Prez of the Board Mary White!! Hats off the Texas Commission on the Arts for its grant support of this community concert.
Sunday, October 24, 2021 - Harmony House Concert Series | Wildscape Acres 10 miles north of Bonham, TX (3-5 p.m.) https://www.http://wildscapeacres.com/
Saturday, August 28, 2021 - Tumbleweed Music Festival | Garden City, KS (We'll be performing early-ish in the day, along with facilitating a brief Songwriting workshop) https://www.facebook.com/tumbleweedfestival/?ref=page_internal
Sunday, August 29, 2021 - Community Congregational Church | Garden City, KS (10 a.m. service) https://www.facebook.com/communitycongregationalchurch/
Monday, August 30 - Friday, Sept. 3, 2021 - RECORDING AT HOWLIN' DOG RECORDS | Alamosa, CO
Wednesday, September 8, 2021- Michael Hearne's Big Barn Dance Music Festival kick-off ART WALK | Taos, NM (we'll be performing at one of the art galleries featured along the way of Michael's famed Taos gallery stroll that's always a soulful beginning to an awesome weekend of LIVE music at Kit Carson Park in downtown Taos - we'll also be present at the festival and look forward to seeing you there!!!) https://www.facebook.com/BigBarnDance
Tuesday, September 14, 2021 - Woody Guthrie Folk Music Center | Pampa, TX (6 p.m.)
TCA-SPONSORED PINEY WOODS TOUR BROUGHT ADLER & HEARNE TO FIVE EAST TEXAS COUNTIES THE SUMMER OF 2021! The Texas Commission on the Arts (TCA) sponsored a rural outreach program to provide free performances by 34 Texas artists to designated rural counties. We were honored to be among those artists awarded tours -- and as fate would have it we were assigned the Piney Woods Tour! Following are the tour dates and places we played:
CARTHAGE, TX (Panola County) | NOON-1 p.m. Thursday, June 3, 2021 | Anderson Park Gazebo (in case of rain at the Texas Country Music Hall of Fame)
CENTER, TX (Shelby County) | 5-6 p.m. Thursday, June 3, 2021 | Fannie Brown Booth Memorial Library on stage indoors in the library meeting room
SAN AUGUSTINE, TX (San Augustine County) | NOON-1 p.m. Friday, June 4, 2021 | Kick-Off concert for the Main Street Heritage Days festival
HEMPHILL, TX (Sabine County) | 10-11 a.m. Saturday, June 5, 2021 | Sabine County Farmers Market
JEFFERSON, TX | 1:30 p.m. workshop & 3 p.m. concert Saturday, July 17, 2021 | indoors at the Jefferson, TX Convention & Visitors Center | 305 East Austin St. 
We also LOVED playing the Whatley Center for Performing Arts in Mount Pleasant, TX on Sunday afternoon (June 6, 2021) in the spacious and lovely sounding lobby performance space. So cool, and a wonderful listening audience to boot.
THEN THERE WERE THESE SOULFUL GIGS TOO!!!...
Saturday, July 24, 2021 - Private Wedding | Salida, CO
Thursday, August 5, 2021 - Private House Concert | Afton, OK
Friday, August 6, 2021 - Private Memorial Service | Bartlesville, OK
Saturday, August 7, 2021 - Satanta Arts Council Community Concert & Picnic at Apache Park | Satanta, KS (6 p.m.) https://www.facebook.com/SatantaAreaArtsCouncil/?ref=page_internal
Sunday, August 8, 2021 - Satanta United Methodist Church | Satanta, KS (10 a.m. service) https://www.facebook.com/SUMChurch/
Tuesday, August 10, 2021 - Singer Hill House Concert | Golden City, MO (6 p.m.)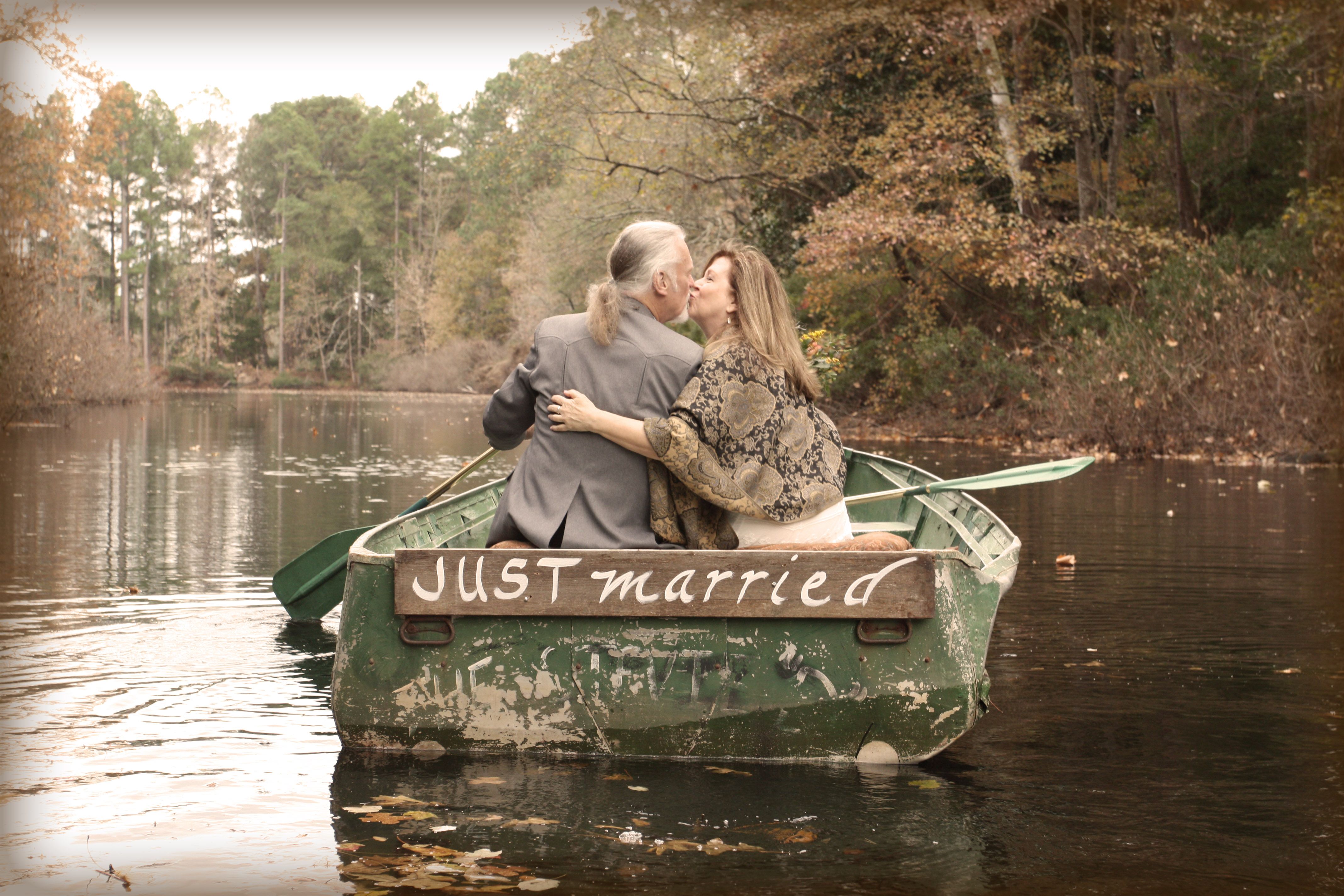 Oh yeah, and we did this.
As a couple whose journey began in friendship in 1979 in Nashville, in 2019 we decided to put the bow on our relationship get officially hitched. In a quiet tiny wedding officiated by two dear friends at our song farm home we tied the knot on November 20, 2019.
We continue to make music in the world as Adler & Hearne (our professional name for 20 years). Following our calling to make music together for our living has not always been the easiest choice, but most definitely the right one. The warm and wide circle of friendships we've made along the way certainly has brought much love, spirit and meaning to our life together.
Thank you from the heart to our family and friends for your encouragement, love and support through the years. 
For those of you we've not seen in too long (which is most everybody, following the past two-plus years of craziness), we'd love our paths to cross soon.
Hint: house concerts make for the best reunions.
REFLECTING EVEN FARTHER BACK
On October 27, 2019 we played the soulful Harmony House concert series at Wildscape Acres north of Bonham, TX at the home of hosts Faye Wedell and Scott Lipsett. It was a gorgeous fall Sunday afternoon, and we were so pleased to have a houseful of friends in attendance. And what SINGERS they were!!!
On September 14-26, 2019 we journeyed to New England and back, visiting dear friends and family and playing a handful of choice house concert gatherings in PA and CT, including the awesome Trinity Church on the Green Coffeehouse Concert and Sunday morning church service, which is always so beautiful and touching. 
On September 4-10, 2019 we enjoyed a few days out to Michael Hearne's Big Barn Dance in Taos, NM. En route to and from we played concerts in Amarillo, TX (at Chalice Abbey) and Moriarty, NM (a lovely house concert series there). It was also very special to be brought up on stage a couple of times during the Big Barn Dance 'love fest.' Always good medicine there.
On August 29, 2019 we returned home from a four-day Artist-In-Residency in Coffeyville, KS for the community's Humanities Project. We gave 17 performances over the four days -- at the community college and many nursing homes, including five programs for the high school in nearby Caney, KS. Oh yeah, and a house concert on our way back home to TX!
On Sunday, May 5, 2019, we wrapped up our delightful two-week High Plains Public Radio Music Ambassador Tour. Hats off to High Plains Public Radio and all our gracious concert hosts and helpers along the way. It was an amazing journey, and we made wonderful new friends in the Texas and Oklahoma panhandles (Perkins, OK too at dear friend Monica Taylor's sweet house concert gathering!!), and all up and down Western Kansas. The High Plains rock, and we encourage you all to put that region on your bucket list.
Our Fall 2018 month-long tour took us on another full sweep to the Upper Midwest down through Tennessee, over to South Carolina and back across the Gulf Coast states to Home Sweet Texas. and our Summer 2018 tour took us from the upper east side of Texas to Arkansas, Missouri, Kansas, Illinois, Michigan, Pennsylvania, New Hampshire, Massachusetts, Connecticut, Delaware, Virginia, South Carolina, Georgia, Alabama and Louisiana.
ADLER & HEARNE ARE ON THE TEXAS TOURING ROSTER!!!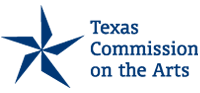 Since 2014, the Texas Commission on the Arts has continually honored Adler & Hearne with a spot on its Texas Touring Roster as official Texas Touring Artists of the State. It's a rigorous application process, and we're grateful to remain on the roster for another two-year term August 2022 to August 2024. NOTE: If you represent a public school, library, municipality or not-for-profit organization in Texas -- you can apply to the TCA for what's called Performance Support grant dollars that will cover up to 50 percent of Adler & Hearne's concert fee. How cool is that?! To learn more, click here.
Or shoot us a fast email, and we'll reply pronto. Write to us at lynn.adler.songfarmer@gmail.com
ADLER & HEARNE MAKE HISTORY!!!
We're honored to be included in this beautiful book penned by Maryann Miller and Bill Jones on the history of our adopted home town of Winnsboro, TX. Wow!! So cool...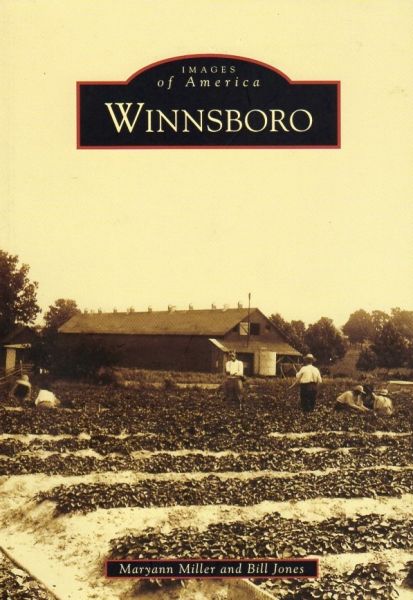 Following is the history book page featuring yours trulies. The book is available for sale at the Winnsboro Center for the Arts, and at the Winnsboro Emporium. Truly a treasury of historic images and stories of our town, which was founded as "Crossroads" in 1854.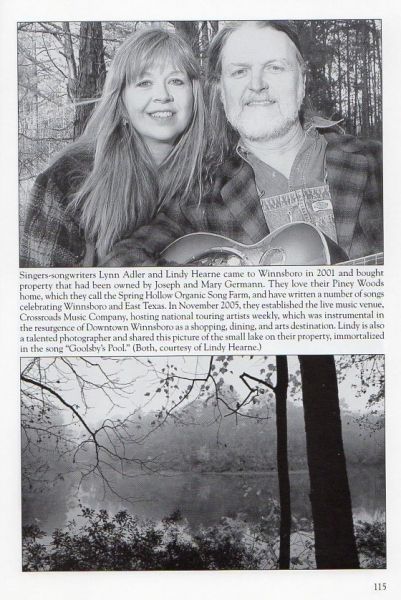 Thanks for stopping by our online home!
And for all you do to support organic song farmers like us in the world by showing up at shows, buying our music, and requesting it from your favorite FOLK DJs.
Thanks for visiting our BANDCAMP page too -- to listen and to purchase our music online, for yourself or for someone you love.
Y'all be safe out there, and be kind to yourself. 
Here's to the ties that bind us dear friends,
Lynn & Lindy
JANUARY 2023
Adler & Hearne
Spring Hollow Organic Song Farm | P.O. Box 979, Winnsboro, TX 75494
lynn.adler.songfarmer@gmail.com
song farm cell: (214) 952-6086 (voice or text)